May 21, 2012
Salmon and fish
,
Sham Science
PNP comment: What a bunch of fish poop. Hatchery fish came from wild fish! This Huffington article isn't even worth the time to read it. Talk about scientists writing reports with a political mission in mind. Sham science, it is. – Editor Liz Bowen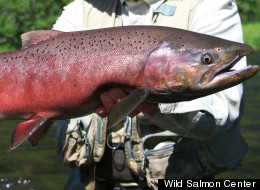 A recently published collection of 23 peer-reviewed and independent studies found evidence that some salmon from hatcheries are harming wild salmon populations as they compete for food and habitat. According to a release, five billion juvenile salmon are released from hatcheries worldwide. In some instances, these salmon are putting pressure on wild salmon and contributing to population decline (not to mention contributing to cases of sea lice).
In one case, chum salmon, a type of Pacific salmon, were released from Asian hatcheries and contributed to the decline of the wild chum salmon population in remote western Alaska, about 2500 miles away from where the hatchery-raised chum salmon was released.
http://www.huffingtonpost.com/2012/05/15/wild-salmon-hatchery-fish_n_1517954.html